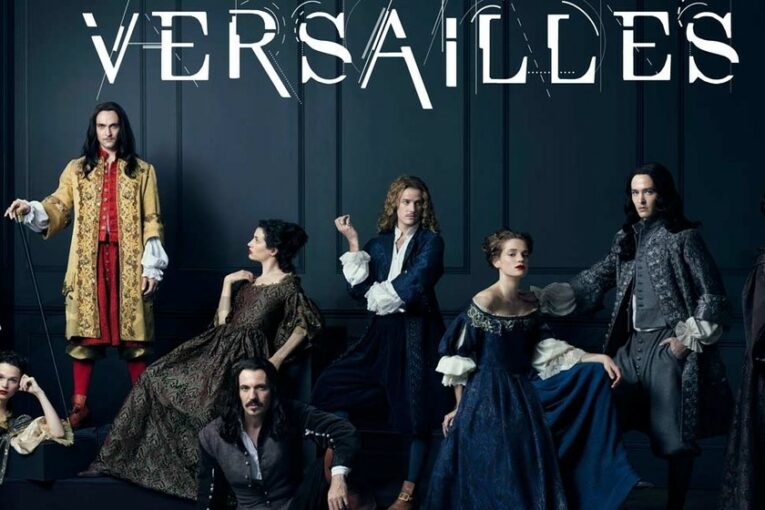 written by G.E. 08/28/2022
Who does not know the showpiece of Louis XIV? The palace arose from his vision. He also played a leading role as an architect, interior designer and more. From his father's hunting lodge to a leisure residence where grand festivities were celebrated. Later Versailles became the principal residence of the French court and government. Louis XIV moved not only the aristocracy to Versailles but also most of the administration.
But I don't want to bore you with facts you may know. And if not, I highly recommend watching the TV show Versailles. What? You don't know it? That borders on an educational gap. But you are not alone in this. I'm passionate about watching TV shows and have a good idea of what's on, when and where, although with all these streaming services, it's pretty hard to keep track of anything.
At least, that's what I thought until the time when I was grounded due to surgery. I took it as an opportunity and browsed through Amazon Prime, where I finally came across "Versailles ." As a fan of the Musketeers, I decided to check it out. And that's how I got involved with the show and fell into its rabbit hole. I had no idea what to expect. Many historical shows are too soapy and overly sappy for me. Many things seem fake, and the costumes, well, you often see better ones for Halloween.
Not so with this show. As I discovered, it was filmed in Versailles and the surrounding area. The costumes were also true to the originals and handmade—every bit of it. Not to mention the cast, which is just brilliant. But let's start from the beginning.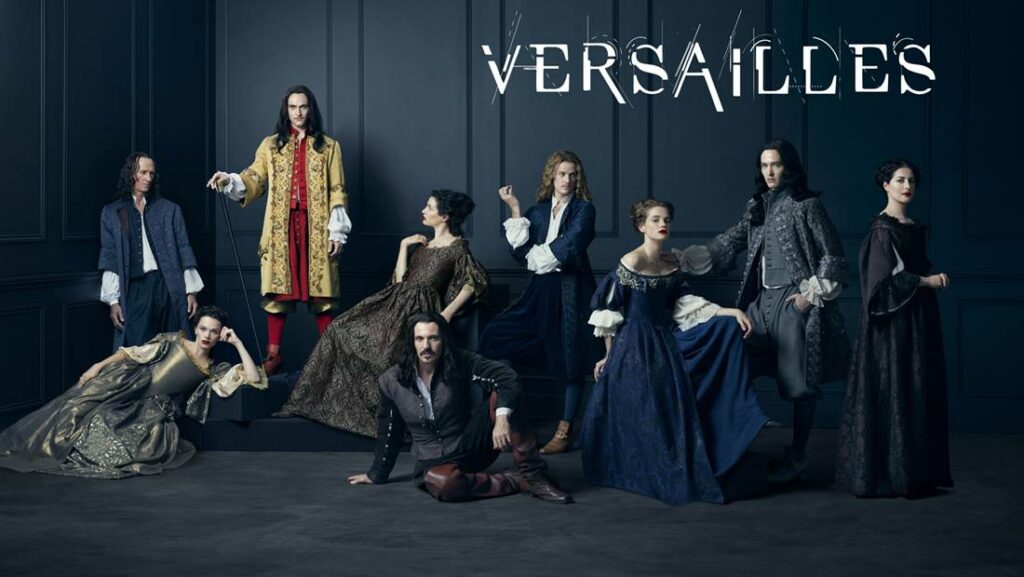 At that time, I was forced to lie on my back. Thanks to the surgery (my gall bladder and part of my liver had been removed). Which only let me sleep by the hour. I was bracing myself for something dull. Something I could doze off to. Little did I know.
Already, the first episode showed me that I was obviously on the wrong track. So much for dull. After episodes two and three, I was finally hooked and smitten. Alexander Vlahos, one of the leads, seconded me on the choice of words. He plays Philippe, the brother of Louis XIV, who is also one of my favorite characters and one-half of MonChevy. Fandoms and their ships… I can say I don't have a ship but rather an armada (given my interest in TV shows). But this is not about me.
So we have Louis XIV, who is brought to life by George Blagden. George is known for the TV show Vikings as Athelstan or as Grantaire in the 2012 film adaptation of Les Misérables. He plays the role so convincingly that it takes your breath away. When an actor is so absorbed in his role that you see more than a pretty face in a costume, and he seduces you to follow him blindly, that's half the battle.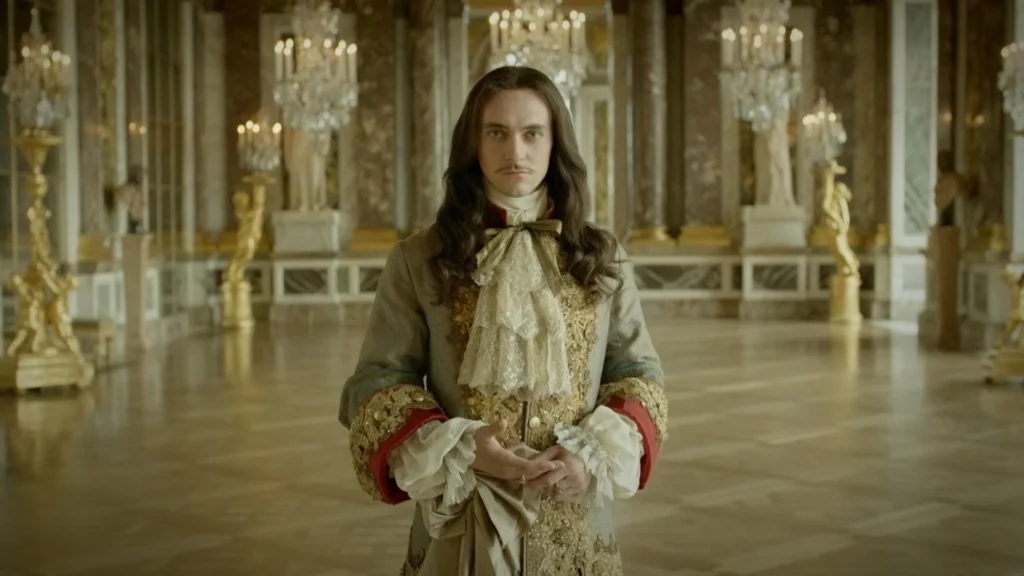 Louis is torn between his aspirations to be a good man and the fact that he is a monarch. His vision, while ingenious, makes him a driven man. An aspect that the TV show picks up on, episode after episode. It becomes clear that this monstrous project, coupled with his regent business, is slowly but surely taking its toll. Louis is losing more and more of his humanity and groundedness.
The women around him do the rest because good Louis is anything but a prude. And while the women make him believe he has the scepter in his hand… They have his d*** in theirs and string him along. More often than he thinks.
Yes, the women of Versailles, and there are many of them, pull the strings in the background. You won't see a whiny damsel in distress. They have long since thrown overboard the wait for the knight in shining armor and stand their own ground. If Versailles were set somewhere in the desert, one could speak of a nest of vipers. One more poisonous than the other. Poison was one of the preferred killing methods of that time when it came to eliminating unwelcome competition and far better than getting your own hands dirty. Many a demon can hide behind an angelic face. Definitely keep that in mind when you're watching the show.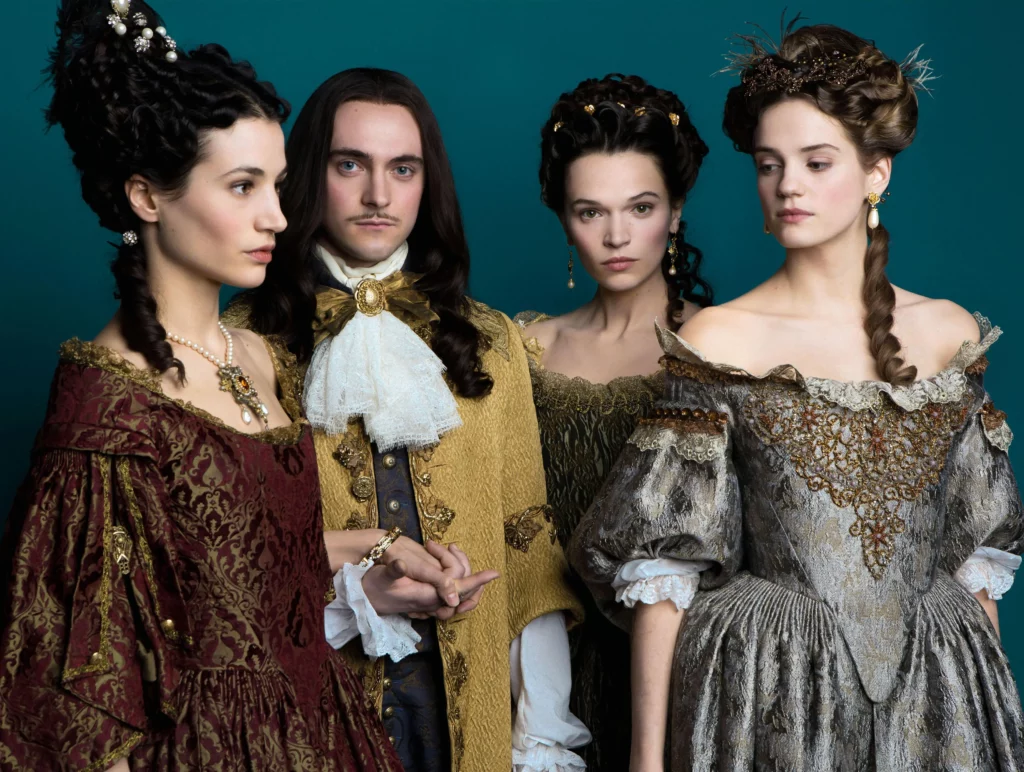 But Versailles is also a story about two brothers. Louis XIV has, as already mentioned, a younger brother, Philippe. And here we are with one of the show's most complex characters. Because, like Louis, Philippe is also ahead of his time. But in a completely different way. He lives openly in a homosexual relationship at his brother's court, even though he is married to Henrietta of England, who is also his brother's mistress. Yes. Get used to complex family relationships. Everyone is related or in-lawed to everyone in some way.
Nonetheless, Philippe also suffers from growing up in his brother's shadow. The relationship between Louis and Philippe is one of the linchpins of the series. Since his birth, Philippe has been assigned the female role of the sibling. And later on, his homosexual activity is not unwelcome because it is seen to reduce any potential threat he may have posed to his older brother Louis. Philippe is a troubled young man.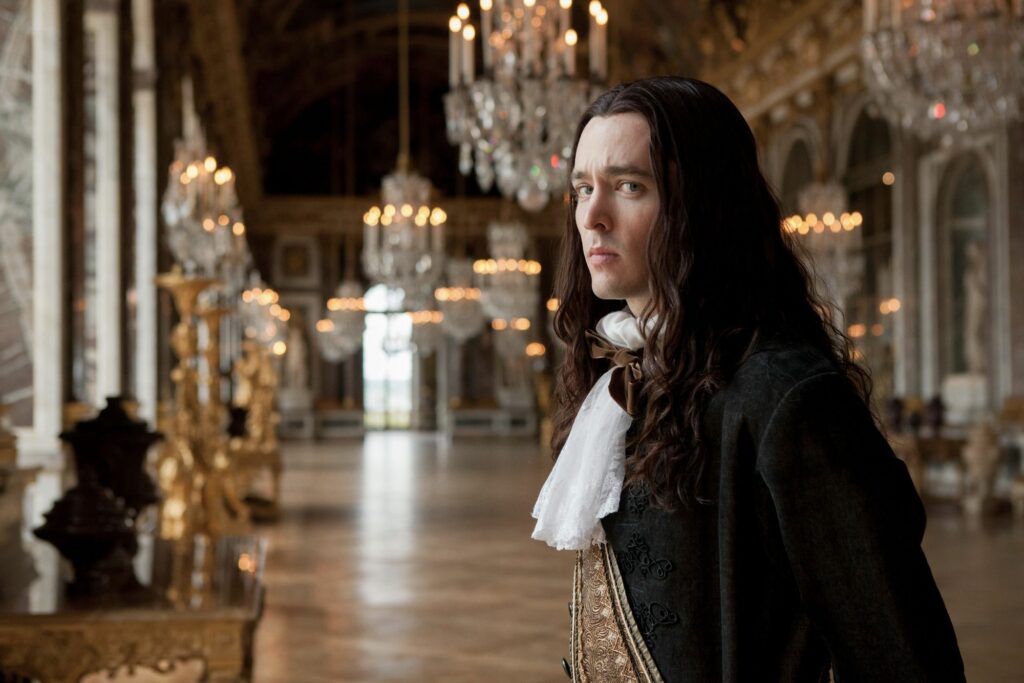 Who could describe him better than the guy who plays him, Alexander Vlahos? Many of us know him as Modred from the series Merlin. Currently, he can be seen as Charles Lockhart in Sanditon and Allan Christie in Outlander. Both series, like Versailles, have historical settings.
And this is what Alex says about his role as Philippe: "He suffers with post-traumatic stress, he is bipolar, a warrior, he cross dresses, is openly homosexual, and has a wife. He is everything and nothing in between." Let's let that sink in before Alex elaborates, "In terms of filming this, five days a week, six months of the year for four years of my life, it's been quite an emotional journey."
Yes! The viewer witnesses it as soon as Philippe appears on screen for the first time. No, I'm not talking about the juicy (no pun intended) scene between him and the Chevalier. I'm talking about the encounter with Louis on a stormy night in his brother's chambers, where Philippe is backing up Louis. The latter just escaped an assassination attempt by a narrow margin.
One could think that Alexander Vlahos is the reincarnation of Philippe. He is sporting this role to a T. Nothing of it seems forced or fake. Neither does the androgynous beauty that his character possesses. I know of no other actor better suited for this role than Alex. A fascinating aura of genius and madness envelops this guy and his role as Philippe. It has never been more beautiful and more accessible to succumb to madness than watching this show.
The Chevalier D'Lorraine also succumbs to the same fascination. His character undergoes probably the most remarkable transformation. He evolves from a superficial guy to a true hero.
However, Wikipedia's description of the Chevalier and his relationship with Philippe makes you wince:
Philippe de Lorraine is three years younger than Philippe d'Orléans. Insinuating, brutal and devoid of scruple, he is the great love of Monsieur's life. He is also the worst enemy of the latter's two wives. As greedy as a vulture, this younger son of the French branch of the House of Lorraine, has hooked Monsieur like a harpooned whale. The young prince loved him with a passion that worried Madame Henrietta and the court bishop, Cosnac. But it is plain to the King that thanks to the Chevalier's attractive face and a sharp mind, he will have his way with his brother.
Yes, he is attractive and a charmer without equal. This character is personified by Canadian actor Evan Williams. Mea culpa. Mea maxima culpa! Because up to this point, he had never appeared on my radar. And yet, something about him makes you think you've known him for ages. As a counterpart to Alexander Vlahos, he is simply brilliant. The chemistry between the two is off the charts. That goes for the show as well as for real life. And that's precisely what it takes, considering that Monsieur and Chevalier do more than just hold hands in several scenes. You simply can't portray amour fou more credibly. A song that comes to mind spontaneously is Truly, Madly, Deeply by Savage Garden.
MonChevy love each other more than anything in the world. However, they are not shying away from ruffling each other's feathers (physically and emotionally even more). They are breaking up and finding each other again and again.
They seem to be the historical equivalent of Tennessee Williams's Cat on a Hot Tin Roof. Or an early version of Taylor and Burton:. Who is who? Everyone may decide for themselves.
Evan William's role of Chevalier is as multi-faceted as Alex's Philippe. You can't help but love them both equally. He and Alex suffer so beautifully that you spontaneously want to invite them for a group hug.
Evan is Versailles' Mr. Vain. A balancing act. You don't get it across as an actor if you don't do enough. If you overdo it, you make it ridiculous and mess up the whole scene. Of course, the authors deserve a lot of praise, along with the casting department. But it's still the person in front of the camera selling the role to the audience. And that's what Evan does without a single doubt.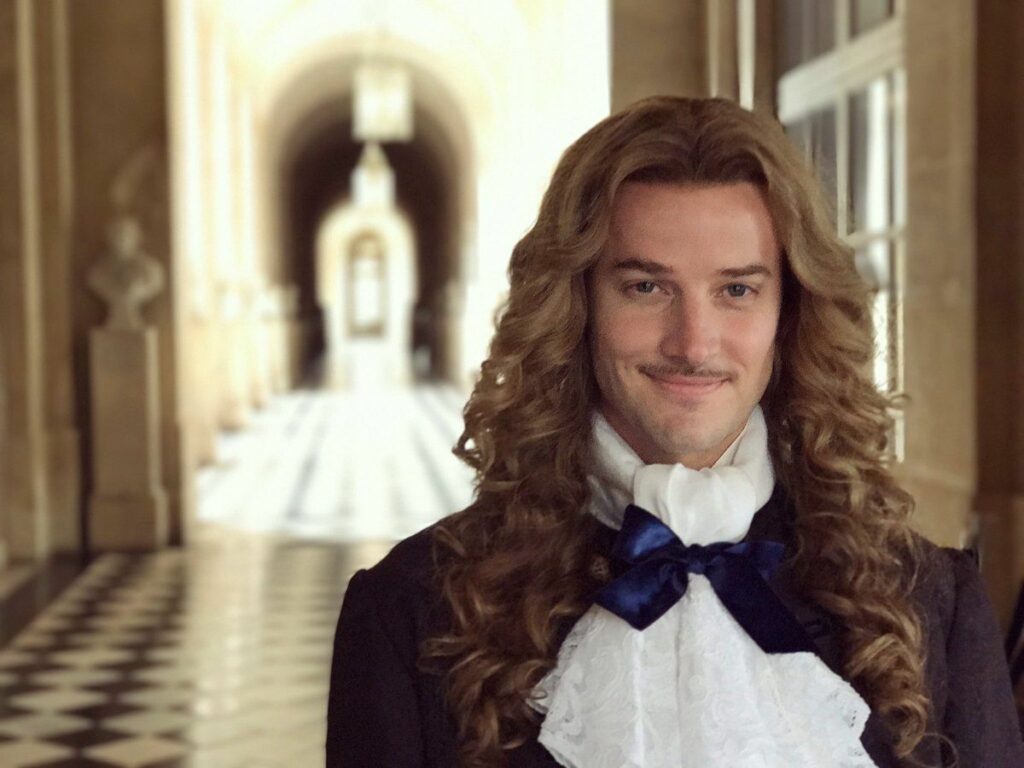 So, to sum it up: Versailles is a French historical fiction drama, Canal+ original television show, set during the building of the Palace of Versailles during the reign of Louis XIV. On November 16, 2015, it premiered on Canal+ in France and Super Channel in Canada. Versailles was created by British writers Simon Mirren and David Wolstencroft. It is the most expensive French television series of all time, with a budget of thirty million Euro for its first season and was shot on location in Versailles.
Simon Mirren began his career writing for British shows like medical drama Casualty, spy thriller Spooks and Waking the Dead. He then began writing and producing for the American TV shows Without a Trace and Third Watch. Moving further to becoming a producer and writer for the procedural Criminal Minds.
It may also be due to Mirren's influence that Versailles is more of a thriller than a historical epic. Without wanting to deny the authenticity of the show.
Since I saw the show, I can't get it out of my mind. I started researching the background of it, the show itself and the actors.
I convinced my friends to watch it because no one in my circle knew about it. This is the right time for a revival of the show. I come across more and more people who have recently discovered it for themselves.
How can that be? And how can it be that this series ended after only three seasons and thirty episodes? The potential for more has been there. It may have been the marketing, which was not aggressive enough, IMO—or wrongly designed. I have no idea and would love to discuss this with the actors (in a Zoom meeting?). And talk about why the Versailles hype is flaring up right now.
God, I already feel like an activist. But fortunately, there's the Internet, and I don't have to run around the streets with banners to draw attention to my cause: If you haven't watched Versailles yet, please watch it. You won't regret it!
Congratulations if you've made it this far. You'll be credited with Brownie Points for doing so. And now there only is one thing left to say: WELCOME TO VERSAILLE.