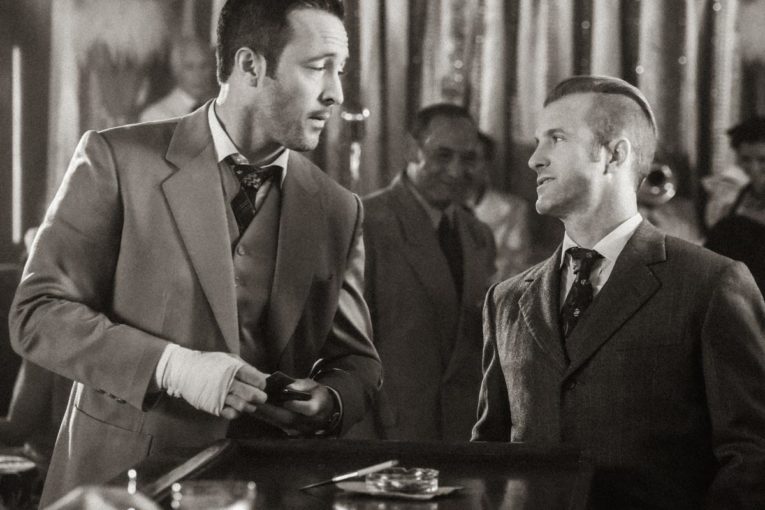 9.07 Pua a'e la ka uwahi o ka moe (The Smoke Seen in the Dream Now Rises)
The "Five-0" Cast Appears as Characters from the 1940s
"Pua a'e la ka uwahi o ka moe" – McGarrett investigates a cold case from the 1940s, one that his grandfather and the famous Honolulu detective Chang Apana worked on, and he tries to deduce how the case could have been solved. Also, McGarrett and Danny get ready for the opening of their restaurant, on the milestone 200th episode of HAWAII FIVE-0, Friday, Nov. 9 (9:00-10:00 PM, ET/PT) on the CBS Television Network. The FIVE-0 cast appears as characters from the 1940s.
("Pua a'e la ka uwahi o ka moe" is Hawaiian for "The Smoke Seen in the Dream Now Rises")
CHEAT TWEET: #H50 fans, mahalo for being a part of these 200 episodes! See McG, Danno & Five-0 as you've never seen them before! @HawaiiFive0CBS! 11/9 9pm http://bit.ly/2EHuu7M
REGULAR CAST:
Alex O'Loughlin (Steve McGarrett/Steve McGarrett – 1941)
Scott Caan (Danny "Danno" Williams/Milton Cooper – 1941)
Chi McBride (Lou Grover/Capt. Charles Sumner – 1941)
Ian Anthony Dale (Adam Noshimuri/Earl Blackstone – 1941)
Jorge Garcia (Jerry Ortega/Officer Mike Flanagan – 1941)
Meaghan Rath (Tani Rey/Alexa Alana – 1941)
Beulah Koale (Junior Reigns/Evan Kekoa – 1941)
Taylor Wily (Kamekona/"Biggie" Tupa – 1941)
Dennis Chun (Sgt. Duke Lukela/Sgt. Naskiuchi – 1941)
Kimee Balmilero (Noelani Cunha/Doctor – 1941)
GUEST CAST:
Richard Herd (Milton Cooper)
Chris Mulkey (William Pettifer)
Mariano Farrar (Clarence Whitmour)
Ma'a Tanuvasa (Guard)
STORY BY: Peter M. Lenkov
WRITTEN BY: David Wolkove & Matt Wheeler
DIRECTED BY: Bryan Spicer
Hawaii Five-0 9×07 Sneak Peek 3 _Pua a'e la ka uwahi o ka moe from Gaby E. on Vimeo.
Hawaii Five-0 9.07 go back to the '40s to catch killer in 200th episode from Gaby E. on Vimeo.