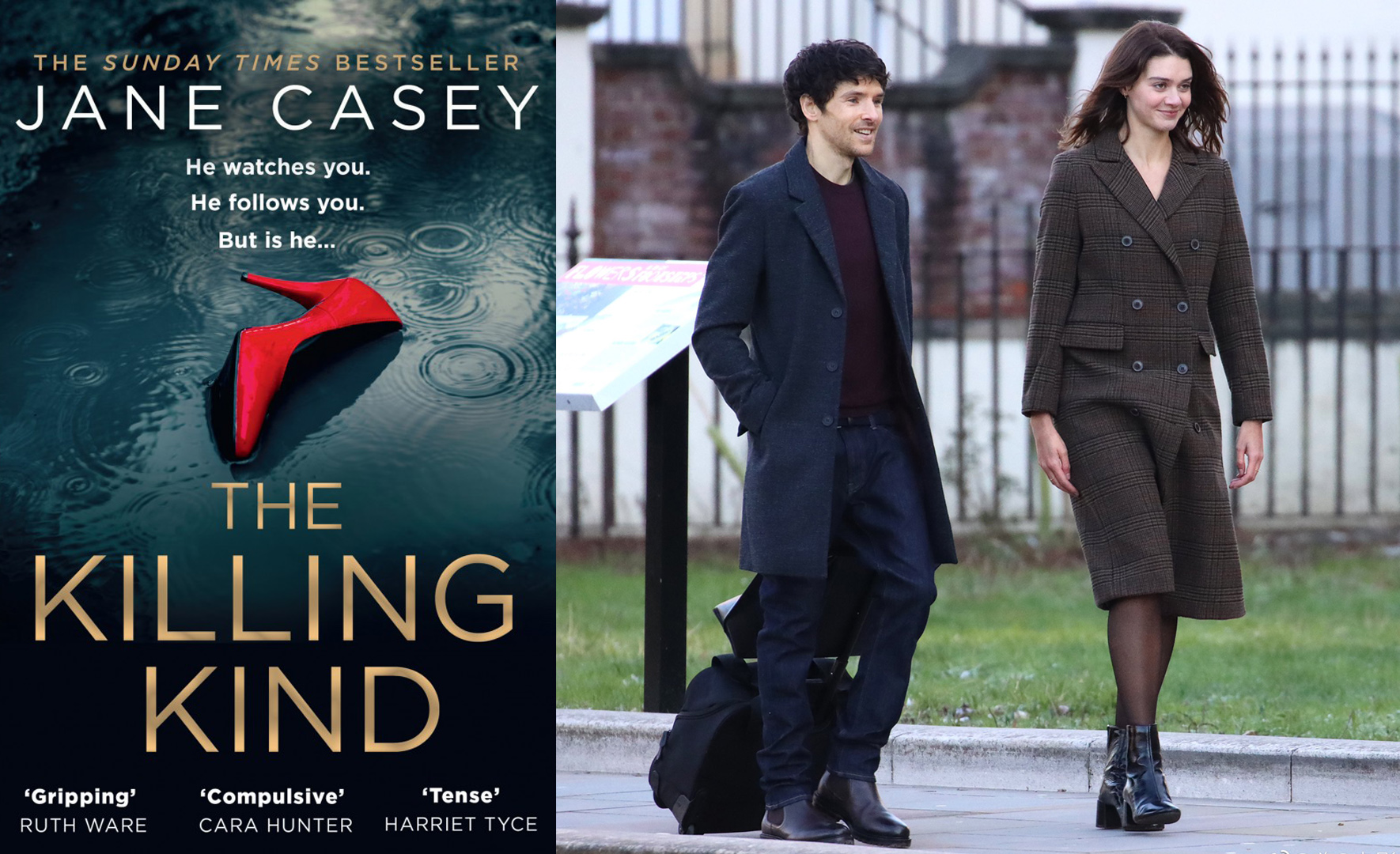 Sony Pictures Television-backed Eleventh Hour Films has optioned Jane Casey's novel The Killing Kind and will adapt it into a limited series.
Screenwriters Zara Hayes (Showtrial) and Jonathan Stewart (Meet You In Hell) have been attached to reimagine the book, with the former set to direct.
Paula Cuddy, creative director at Eleventh Hour Films, said: "The Killing Kind is an exceptional thriller from the brilliant Jane Casey, which delivers the twists, turns and emotion to grip a global TV audience. Ingrid is a compelling protagonist, whose story is most timely as she navigates professional and personal ethics, her journey making us question 'justice' in every sense." (DEADLINE)
Situated on the River Avon, Bristol is currently the scene of filming for a new series for Paramount+, under the title of the book of the same name, The Killing Kind. Bristol serves as London, as it has in numerous other series and films. Filming will also progress into Bottleyard Studios and London later this year.
Earlier this week, bestselling author Jane Casey visited the set to see how filming was progressing and was full of praise. She subsequently shared her impressions on Twitter. And although she stressed that she would not answer any questions about the shoot, she did make time for fans.
One question that surely interested a lot of people came from user @HFSP, which Jane promptly answered.
@BookConvos followed suit
After reading a few pages into The Killing Kind, we can say that the book is compelling and a real pageturner. There have been thrillers that put you in snooze mode while reading the courtroom scenes not so with The Killing Kind. Thanks to the perfect choice of words, Jane Casey defines her protagonist, John Webster, from the very beginning as that mystery he is and that runs like a red thread through the whole novel.
The first thing you might think when you read the book's synopsis is: Not another stalker novel. But The Killing Kind deals with this topic in a surprisingly different way. If you read through pages and pages of thrillers, the plot often bumbles along, tension is built up briefly, which – unsurprisingly – leads to the climax of the book and then dies down either very slowly or way too quickly. Much to the reader's delight, Jane Casey's style creates and maintains an underlying tension. Moreover, one increasingly questions whether Webster is the only one who deserves to be denounced as the perpetrator. For even his supposed victims display traits that cast doubt on their mental competence and credibility. Even protagonist Barrister Ingrid is not immune to jumping to conclusions when she herself is targeted by Webster. And the question remains: is he or is he not…?
As far as the casting of The Killing Kind is concerned, we give this team standing ovations. The choice of Emma Appleton as barrister Ingrid Lewis and Colin Morgan as the charismatic John Webster can almost be called a stroke of genius.
Emma Appleton is an English actress and model. She progressed from a teenage model for numerous labels such as Victoria Beckham, The Kooples, Margaret Howell and DAKS, and advertising brands such as Fred Perry, Toni & Guy, Rimmel, and Converse. to an actress.
Emma went into acting in 2016 when she appeared as Pixie in the short film Dreamlands. Her television debut with a recurring role as Fay Brookstone in the first series of the BBC Three thriller Clique followed this. She also made guest appearances in the first series of the Channel 4 comedy-drama The End of the F***ing World and an episode of the ITV detective drama Grantchester.
After appearing in the National Geographic anthology Genius, Emma was cast in her first lead role as Feef Symonds in the Channel 4 spy thriller Traitors, which aired in 2019. Later that year, she played Princess Renfri in the first season of the Netflix fantasy series The Witcher. Emma made her feature film debut in the 2021 romantic drama The Last Letter from Your Lover, also on Netflix. She guest starred as Mya Miller in two episodes of the Sky One science fiction series Intergalactic.
The following year, Emma portrayed Nancy Spungen in the Hulu biographical miniseries Pistol, starred alongside Bel Powley in the BBC adaptation of Dolly Alderton's Everything I Know About Love, and had her first lead film role as Thomasina in LOLA with Stefanie Martini. (Wikipedia)
Knowing the book, we come to the conclusion that Emma is the perfect casting for Ingrid Lewis. She herself says about her role: "I'm delighted to be working with such a talented team on such a thrilling show. When I first read The Killing Kind script I was so intrigued by Ingrid and the twists and turns we take as the story goes on."

The same goes for her co-star Colin Morgan. He is a Northern Irish actor and succumbed to his fame in the title role of young Merlin. The series aired from 2008 to 2012 on the BBC and has a massive fanbase even more than ten years later. Since then, you could admire his talent in numerous series – he only recently starred in Amazon's Mammals als Jeff Wilson – and feature films. To name some other shows he starred in: Humans, as Leo Elster or in The Living And The Dead as Nathan Appleby. That the talented, good-looking actor can also credibly embody less sympathetic roles, he recently proved as Billy Clanton in Kenneth Branagh's Belfast.
Morgan also demonstrated his diversity in the film Benjamin, described on Amazon Prime thus: A charmingly offbeat gay romantic comedy about a mess-of-a-filmmaker juggling the anxieties and excitement of his upcoming film premiere with the fear and awkwardness of a burgeoning romance. And as if he wasn't busy enough, Colin also indulges in stage acting, his real passion where he can also be admired in countless roles.
This diversity and versatility probably earned Morgan his role as John Webster. For it is also idiosyncrasies that benefit John Webster as a stalker.
But let's let Colin Morgan himself speak about his role in The Killing Kind: "Getting the opportunity to explore a more dark and complex role with John Webster has been enlightening and such fun. Working with the brilliant Emma Appleton has already been such a highlight, along with the rest of the incredible cast. The story had me hooked from page one, and I am looking forward to seeing it play out on screen."
We couldn't agree more and highly recommend Jane Casey's book to those who can't wait for the series to air in 2024. It's available in hardcover, paperback, audiobook, and in some countries on Kindle at Amazon Prime and also at leading bookstores.
And now, if you'll excuse us, we have to get back to the book, because we want to know what happens next.
FULL CAST
Colin Morgan as John Webster.
Emma Appleton as Ingrid Lewis.
Elliot Barnes-Worrell as Mark Orpen.
Rob Jarvis.
Kerr Logan as Luke Nash.
Nicholas Rowe as Angus Grey.
Sara Powell as Belinda Grey.
Niamh Gaia as Flora Pole. (Wikipedia Link)
LINKS:
ELEVENTH HOUR FILMS ANNOUNCES LIMITED SERIES ADAPTATION OF NEW JANE CASEY THRILLER 'THE KILLING KIND'!!
Colin Morgan and Emma Appleton to lead new thriller The Killing Kind
'The Killing Kind' to Be Adapted for Paramount+
New Paramount+ drama The Killing Kind filming in Bristol
The Killing Kind — cast, plot and all about the thriller starring Colin Morgan
The Witcher star announced for brand new crime drama series
Colin Morgan (is not on any social media) IMDb
AMAZON UK – The Killing Kind – Book