The Boy That Never Was is based on the Sunday Times best-selling debut novel by Irish author Karen Perry.
Updated:
Abacus Media Rights, an Amcomri Entertainment company, has pre-sold The Boy That Never Was, a four-hour drama series based on the best-selling novel by Karen Perry.
Filmed on location in Morocco and Ireland and produced by Subotica (North Sea Connection), the series has been commissioned by RTÉ with support from Screen Ireland, with delivery scheduled for April 2024.
AMR has already secured sales to UKTV for their Alibi channel and France Télévisions.
The series is co-written by Jo Spain (Harry Wild, Taken Down), whose own crime novels have been translated into 20 territories, and screenwriter David Logan (Harry Wild, To Olivia).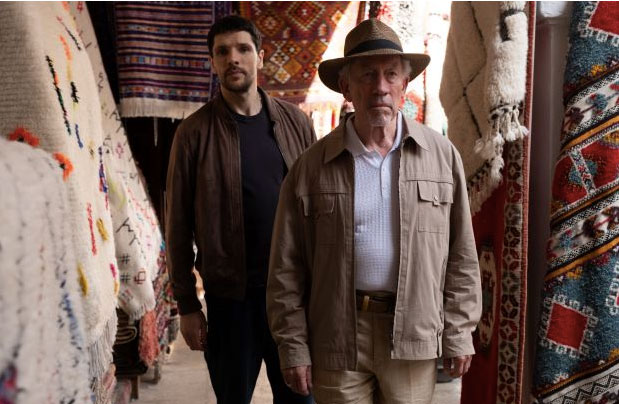 Abacus Media Inks Presales for 'The Boy That Never Was' – VideoAge International
While Colin Morgan was busy filming Jane Casey's bestselling novel The Killing Kind earlier this year, he is now starring in another novel: The Boy That Never Was, based on the Sunday Times bestselling debut novel by Irish author Karen Perry in 2014.
Also starring in this new series is Kerr Logan, who played DS Luke Nash in The Killing Kind (a cop driven to hunt down those he believes are on the wrong side of the law and John Webster's nemesis).
Viewers are already hoping for a sequel to this successful, nerve-wracking game of cat and mouse, as the ending left a number of questions unanswered. We shall see.
The Boy That Never Was is almost of the same genre. However, the focus here is not on solving a murder but on the mysterious disappearance of a young boy, Dillon, during a devastating earthquake in Morocco. Harry, the boy's father, played by Colin Morgan, neglects his duty of supervision for only a few minutes. Just then, an earthquake destroys the house where Harry left his son. All attempts to rescue Dillon from the rubble fail, and he is eventually pronounced dead, though his body is never found.
Three years later (five years in the book): The parents are now living in Dublin, leading a life still affected by the disaster, when Harry sees a boy in a crowd convinced he is his missing son. Although Harry does not waver from his conviction and becomes obsessed, even breaking up his marriage, he stubbornly follows his path, encountering more and more inconsistencies along the way. How involved is his wife, who doesn't believe him? And how far is Harry willing to go to solve the mysterious disappearance of his son? Or could it be that what he saw was a figment of his imagination?
This seems to be another parade role for Colin Morgan, who chooses his roles carefully. In an interview for Jackel Magazine in 2019, Colin said of his choice of roles, "I look for demanding roles, so every new one I take on is a challenge, something I haven't done before, either the action or the character or the setting. When I first read a script, I do it as an audience member – will it entertain me? And then I read it again from an acting point of view – what would I bring to it?"
So, it will be interesting to see how Colin approaches Harry's role. He has certainly changed his appearance drastically compared to John Webster. Although Harry's appearance is reminiscent of Colin's role as Calum MacLeod in the 2011 film Island, he can still be described as a chameleon, or rather, he belongs to the same group of actors as Christian Bale. The so-called method actors not only play their roles, they also adapt their appearance to them.
While Colin Morgan looks almost fragile as John Webster but is always elegantly dressed, Harry looks more like the down-to-earth guy next door. Hats off to him for so much courage and self-sacrifice, but also for the courage to not always show his most attractive side. This also applies to Colin Morgan's film Dead Shot, a drama set in the seventies at the height of the IRA, which was also screened this year and in which Colin plays Michael O'Hara, a former IRA member who is seeking revenge for the killing of his wife by a soldier named Tempest (Aml Ameen).
We are also excited about the role of Kerr Logan, who portrayed DS Nash so incredibly well that we wanted to wrap our fingers around the character's neck a few times. Should there be a sequel to The Killing Kind, we would love to see John Webster and DS Nash face off in a nerve-wracking showdown. This part existed in the book but was altered for the end of the final episode, as were some other scenes.
Colin and Kerr's scene in episode 1.04 of The Killing Kind, in which Webster and Nash meet in a pub, offered a small taste of such a showdown. It's also one of those key scenes where, as is often the case with this show, you wonder who's manipulating whom, considering that Ingrid (played by Emma Appleton) is also present and acting no less confusingly.
Filming of The Boy That Never Was began in Morocco in October (Kerr shared pics of it on his IG account) and is now continuing in Dublin. Release date: April 2024
Source BTS pics 17/11/2023: x
GENRES
DURATION
4 x one hour
BROADCASTER
RTE Ireland
YEAR OF PRODUCTION
2023
PRODUCED BY
COUNTRY OF PRODUCTION
Ireland
DIRECTOR
Hannah Quinn
STARRING
Colin Morgan, Toni O'Rourke, Kerr Logan, Simon Callow
Colin Morgan is (officially) not on any social media outlet
Kerr Logan: Instagram: https://www.instagram.com/kerrlogan/ X: https://twitter.com/KerrLogan